Click here to view a transcript.
2021 brought another first for HLP - a feature length radio documentary! The Headford Lace Story is an hour-long radio piece made by producer Ed Coulson for Claremorris Community Radio (CCR). It was first aired on CCR on 20 June and explored how a group of women in Headford stumbled across a mostly forgotten history of lacemaking in their town, and how a tiny fragment of lace became the starting point for countless cultural and regenerative events and projects – and created a sisterhood along the way.
We hear the voices of many of the women involved in researching and promoting the story of the local lace industry, as well as artists and textile experts. There are also moving personal accounts of the support and friendship provided by the lace group itself.
The documentary went on to win two awards at the 2021 Community Radio Ireland Achievement Awards in October 2021 - a Gold Award and the Standout Award in the Commissioned Programmes category. It was described by the award judges as:
"an exceptionally powerful community storytelling through the many voices captured, the delicacy of the heartfelt storytelling, and exceptional production quality. A great achievement for the whole team."
Ed's skill, passion, attention to detail, patience and perception guided us through this process and HLP are delighted with the result and its success at capturing the essence of our project at a moment in time. The documentary features music inspired by the story of Headford Lace from local musicians - Headford Music Works, Drumadore, and The Whileaways - all resulting from collaborative projects with HLP. Huge thanks to them all! It also includes a portion of 'Caritas Dei' by the Gloriae Dei Cantores Schola and a recording by Aengus McMahon Photography, used by kind permission. The BAI Sound and Vision Scheme supported this documentary.
"It was in early 2019 that I first went along to a HLP lacemaking workshop and what stuck with me was how ready everyone was to talk about why the project mattered, and what lacemaking meant to them personally. As a radio producer, that was what drew me in. I knew that doing a HLP documentary was going to be the biggest and most important audio project I'd ever attempted, but I also knew the people involved in HLP were generous, creative, resourceful and organised. That was what gave me the courage to move forward and try to make the documentary. As a beginning producer, HLP gave me an incredible gift in nurturing and supporting this documentary. Thanks to them, I was able to take on something very difficult, put into practice a lot of learning, and bring a complex idea to life." Ed Coulson.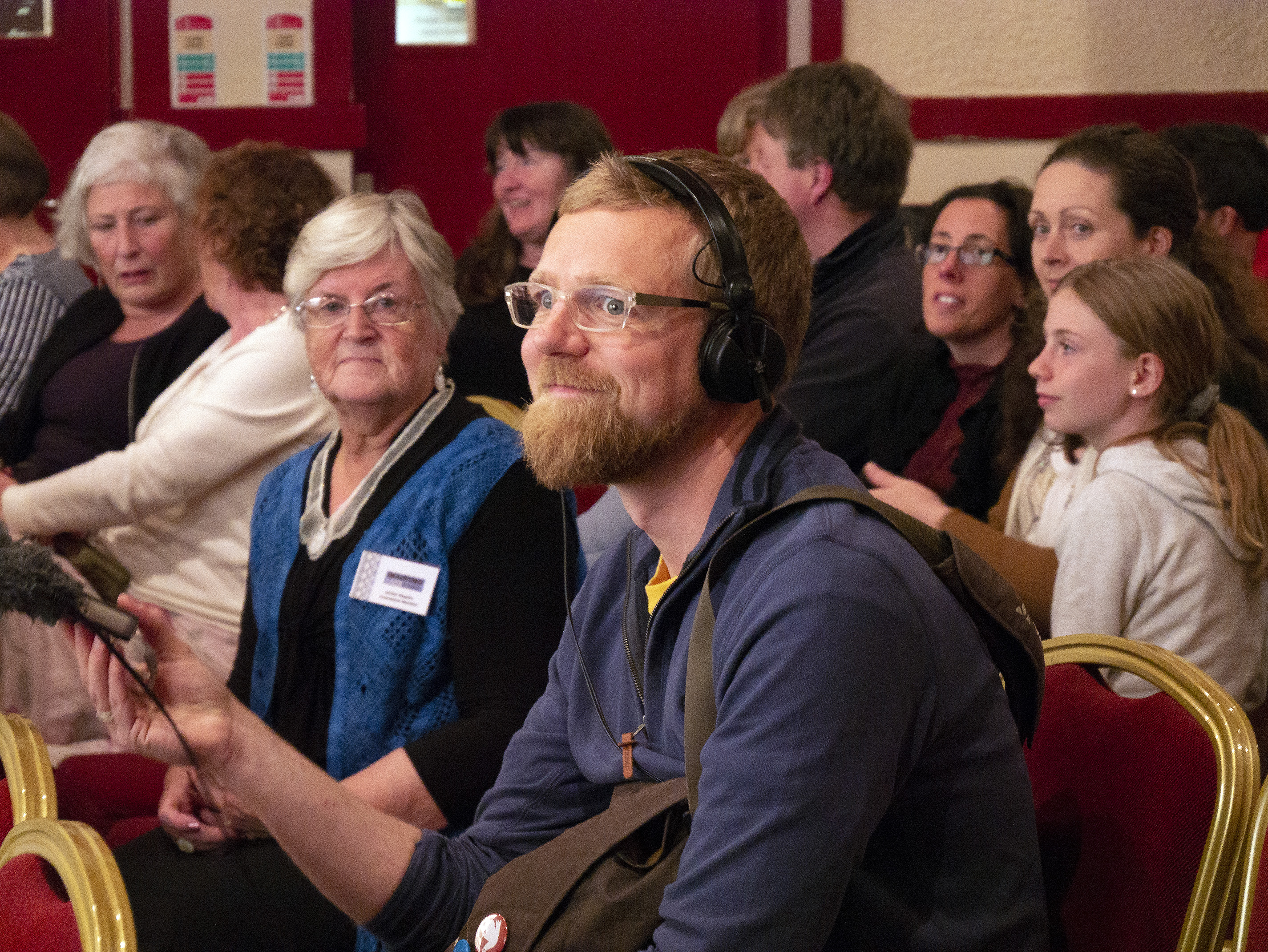 Ed Coulson. Image by Norma Owens.