The Space Between was an exhibition of contemporary lace art organized by HLP in Headford, which ran from 10 to 18 October 2020. The lace pieces were displayed in the windows of local businesses and viewed from the street. Unfortunately at the time of the exhibition, Ireland was under level three Covid-19 restrictions, which meant that we could only welcome visitors from County Galway, as inter-county travel was prohibited. We had anticipated that this might be an issue though and worked hard to ensure as high quality an experience as possible for our friends from farther afield (including most of our artists and even some committee members!).

Part of 'The Space Between' exhibition, curated by Fiona Harrington. Image by Norma Owens.
We are immensely proud of the exhibition that we presented to the people of Headford and the wider world. The exhibition was the culmination of many big ideas, meetings, hard work and a little bit of luck. The voluntary HLP committee showed vision, commitment and dedication over several years to bring the exhibition from a chat over coffee, to an idea on paper and finally to the physical exhibition in our town. We began by selecting two artists that we felt reflected what we wanted from the exhibition and were delighted that both Selma Makela and Tarmo Thorström accepted our commissions (images overleaf). We were then fortunate that the saying "Cometh the hour, cometh the (wo)man" proved true when we recruited Fiona Harrington as our curator. Fiona's outlook and passion match so well with ours that the partnership was very fruitful.
"As someone who is committed to the preservation, promotion and progression of Irish Lace, I consider the structures and methodologies of HLP to be the future of lace organisations in Ireland and I hope that an opportunity arises in the future whereby we can work together again." - Fiona Harrington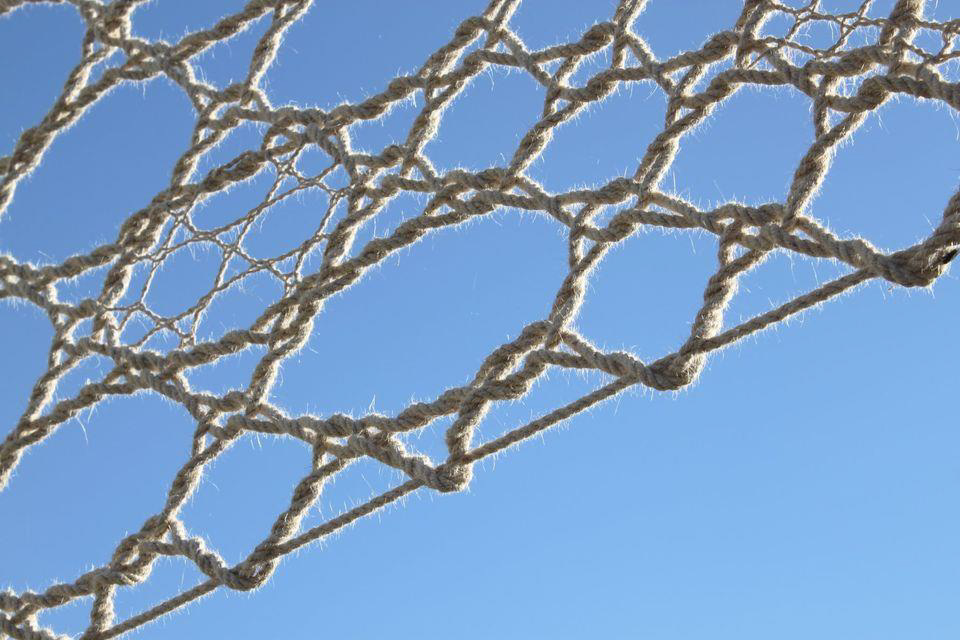 'Macro/Micro' by commissioned artist Tarmo Thorström. Image by Ester Kiely.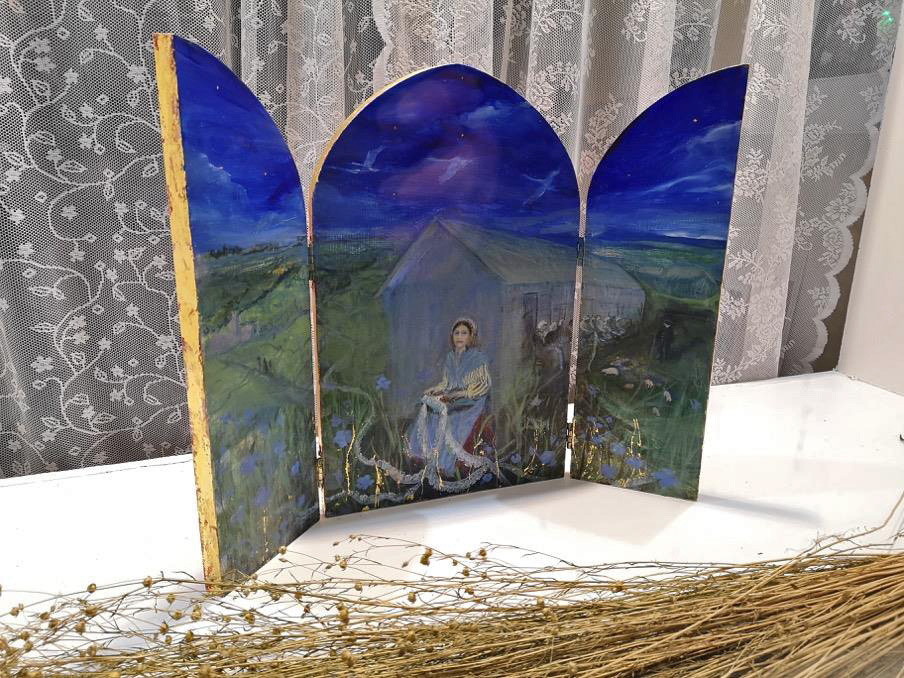 'Lacemaker Icon' by commissioned artist Selma Makela. Image by Ester Kiely.
Finally, inspired by Fiona's call, we were blown away by the number and quality of the submissions received from all over the world. The exhibition included works from 34 individual artists from 11 countries across four continents. The artists quite literally made the exhibition. Of course none of this would have been possible without visionary and supportive funders and we are grateful to Galway 2020 European Capital of Culture, Galway County Council Arts Office and Design & Crafts Council Ireland for their help making this big idea happen in our small town.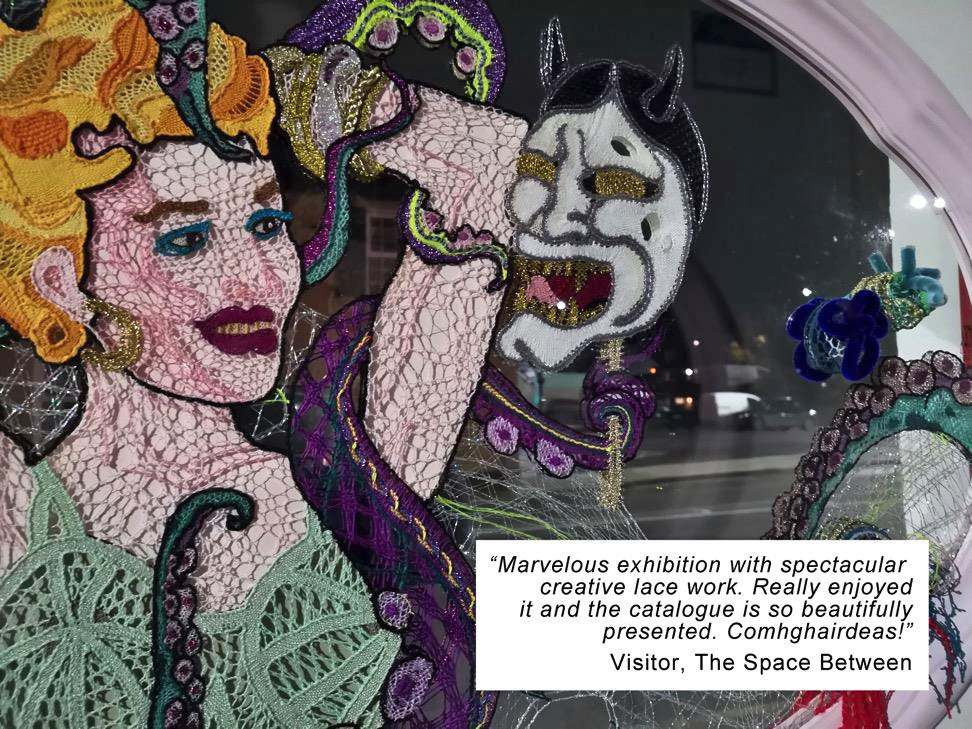 'Vanitas -atis' by Marian Nuñez. Image by Norma Owens.
To enhance the exhibition for visitors and to bring a taste to those who could not travel we put time and energy into sourcing extra funds to produce a high quality catalogue* to accompany the exhibition. This catalogue was designed and edited by Norma Owens with cover design by Ella Hassett, content by committee members of HLP, photography by Aengus McMahon, and printing by A&T printers Athenry. It includes high quality photography of each piece as well as artists' information and statements. These have been circulated widely throughout Ireland and overseas and the feedback has been excellent. We also produced a video to mark the exhibition launch ...
and a virtual tour of the exhibition for circulation online.
In both cases we sought to bring a taste of the exhibition and its setting to the viewer. These videos have been viewed over 1600 times so far.
Click here to see more images from The Space Between.
*Copies of The Space Between catalogue can still be ordered for just €5 plus P&P to anywhere in the world. Contact HLP for details.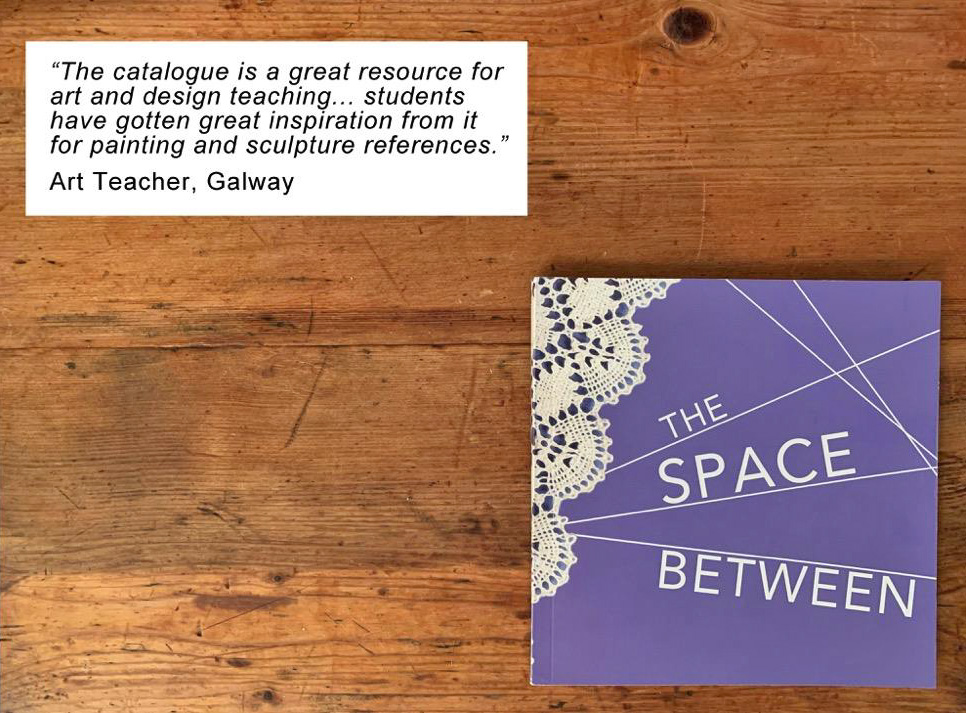 'The Space Between' catalogue. Image by Ella Hassett.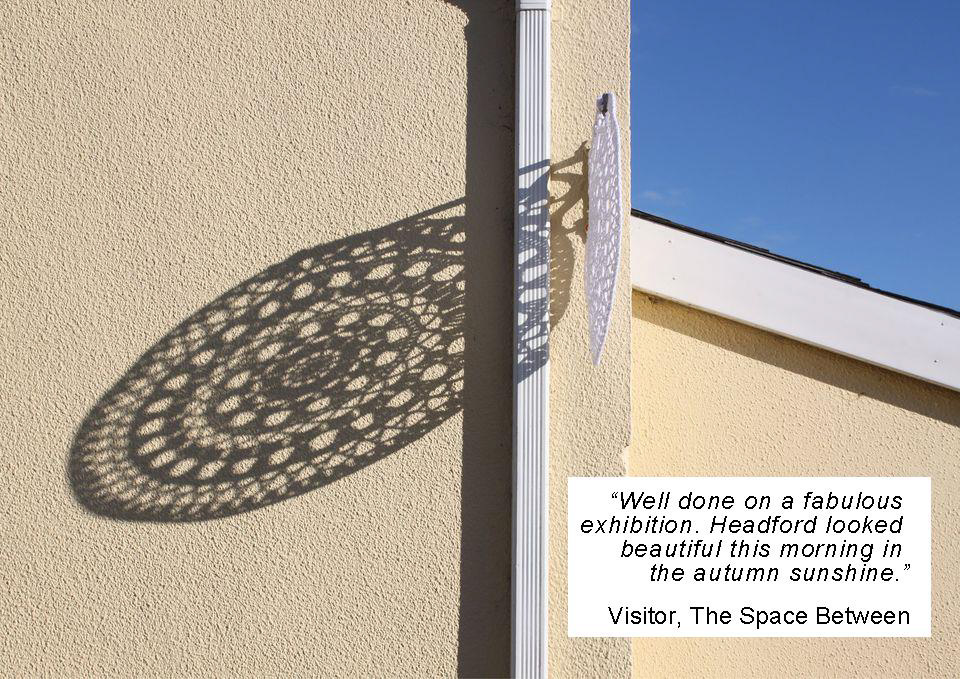 Headford Yarnbombers decorated the town with mandalas to celebrate the exhibition. Image by Colm Henry.